NEWS
Details

Parent Category: ROOT
Category: tweeterest
Published: 11 October 2017
Hits: 392
Eminem unleashes freestyle rap attack on 'kamikaze, racist, orange' Trump In a four-minute performance rapper says of the president: 'Racism's the only thing he's famous for'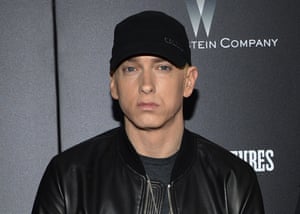 The rapper Eminem has issued an ultimatum to his fans – support either him or Donald Trump – in a scorching rap played at Tuesday night's BET awards. In the four-minute freestyle, filmed in a car park in Detroit and titled The Storm, Eminem called out the US president on issues including his behaviour towards North Korea, his support for white supremacists and his penchant for tweeting. In the rap he refers to the US president as "a kamikaze that'll probably cause a nuclear holocaust". In a reference to the orange superhero the Thing from the Fantastic Four comic books, he raps:
"Racism's the only thing he's Fantastic Four / Cause that's how he gets his fucking rocks off and he's orange." Facebook Twitter Pinterest The four-minute rap. Eminem, who has criticised Trump in the past, also waded into the NFL national anthem protest saga and threw his support behind the player Colin Kaepernick, who was first to take a knee and who inspired widespread protests that have extended outside of football and enraged Trump.
Kaepernick was quick to respond to the rap on Twitter. Follow Colin Kaepernick ✔@Kaepernick7 I appreciate you @Eminem ✊🏾 4:30 AM - Oct 11, 2017 4,465 4,465 Replies 127,811 127,811 Retweets 276,680 276,680 likes Twitter Ads info and privacy The Stan rapper and Oscar winner ended the rap with a demand for his fans to take a side:
"Any fan of mine who's a supporter of his, I'm drawing in the sand a line, you're either for or against, and if you can't decide who you like more and you're split on who you should stand beside, I'll do it for it for you with this. Fuck you." A number of famous names, including basketball player LeBron James, tweeted out support for Eminem. View image on Twitter View image on Twitter Follow LeBron James ✔@KingJames Racism is the only thing he's Fantastic 4(fantastic for), cause that's how he gets his rock off, he's orange.
Sheesh @Eminem!! 🔥🔥✊🏾🔥🔥#United 4:54 AM - Oct 11, 2017 1,096 1,096 Replies 37,249 37,249 Retweets 90,729 90,729 likes Twitter Ads info and privacy Follow WORLDSTARHIPHOP ✔@WORLDSTAR Snoop Dogg salutes Eminem 💯 @SnoopDogg @Eminem 5:04 AM - Oct 11, 2017 31 31 Replies 1,655 1,655 Retweets 4,039 4,039 likes Twitter Ads info and privacy Follow Sean Diddy Combs ✔@diddy .@Eminem killed this shit!!! Fuck that! This is for Collin ball up a fist!!! ✊🏿 5:46 AM - Oct 11, 2017 154 154 Replies 4,360 4,360 Retweets 9,761 9,761 likes Twitter Ads info and privacy The performance comes as Eminem's next album is reportedly nearing release, with his producer Mr Porter announcing last week: "We are done". The president is yet to respond.
Be first people review it.